St. Patrick's Day as it is celebrated locally and around the globe
Saint Patrick's Day is celebrated differently locally and across the globe. It was originally celebrated in Ireland with religious services and feasts in honor of Saint Patrick.  Today, some attend the festivities and the parades while others participate in school activities or make green milkshakes at home. 
Amherst sophomore Paige Bird likes the simple things. "Something I enjoy about Saint Patrick's Day is seeing the parades on TV and watching people celebrate their Irish culture as well as watching the parades in Chicago with the Chicago River dyeing in green," said Bird. 
For others it's more about the special food and drinks. "On Saint Patrick's Day, I love getting Shamrock shakes, it's unique and so special for this day," said sophomore Siri Anderson.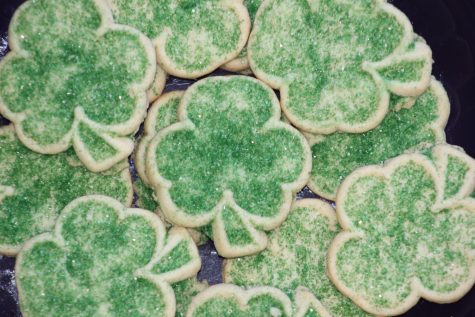 Some families share in special traditions for the day. For the family of Lia and Saige Peterson, it's to look for chocolate around the house and after taste them. Bird's family visits their grandma's house and eat corned beef and cabbage (whereas Irish people eat Irish soda bread, also corn beef and green beer). 
From very eccentric to very simple, people usually wear green for Saint Patrick's Day. The tradition also calls for the wearing of accessories as in, for example, dressing up like a leprechaun, wearing shamrocks and carrying a full pot of coins.
Saint Patrick's Day was originally celebrated in Ireland with religious service and feasts in honor of Saint Patrick. Traditionally, on March 17th, Irish people go in the streets and celebrate the patron saint of Ireland with parades, special food, music, dancing, drinking and all that with lots of green.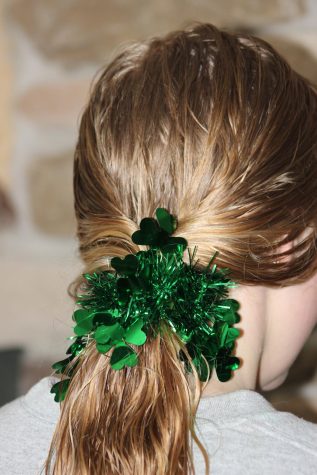 According to some historians, the first parades weren't in Ireland but in the United States of America. A few people say this day became too commercialized but some traditions connected to this holiday are still going strong.
Saint Patrick's Day is full of symbols, one of the most prominent being the shamrock. This is Madelyn Farrey's favorite symbol, "I love the shamrock, it's my lucky charm and green is my favorite color."  The legend goes that when Saint Patrick arrived in Ireland he used a shamrock to explain Christianity's Holy Trinity. The Harp has long held a special significance for the Irish as it was used as a rebellious symbol of Irish pride. And finally the leprechaun is a mischievous fairy who, when captured by a human, must grant three wishes to be freed. 
Irish origins or simply interest in Irish culture and visiting Ireland in the middle of the festivities of Saint Patrick can be enriching. Taking a walk in the streets of Dublin or Cork with the spring colors coming is the ideal time to take a short vacation to Ireland.