Falcon cross country runners named to All-Conference Team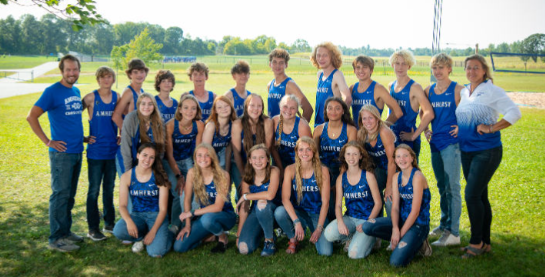 CWC Cross Country results
Rosholt, Oct. 17
Girls High School 5000 Meter Race
Team Overall – 3rd Place (of 8 Teams) 
All-Conference Award Winners:
Lia Peterson (Junior) – 4th Place – 1st Team All-Conference

Saige Peterson (Junior) – 13th place – 2nd Team All-Conference
Boys High School 5000 Meter Race
Team Overall – 4th Place (of 9 Teams) 
All-Conference Award Winners:
Max Voss (Junior) – 4th Place – 1st Team All-Conference

Cayden Wright (Junior) – 14th Place – 2nd Team All-Conference

Elijah Bohm (Sophomore) – 17th Place – All-Conference Honorable Mention
The Amherst High School boys varsity cross country boys flew into a top place finish at the Tri-City Golf Course Cross Country Meet on Thu., Sept. 22. The Amherst boys took first place out of seven teams and the Amherst girls came in third place out of four teams.
Junior Max Voss led the falcons with a second place overall finish in the boy's race with a time of 17 minutes and 11 seconds. Voss's split was 5 minutes and 54 seconds per mile for the 3.1 mile race. Voss has been leading the boy's team all season and captured his personal record at the meet. The next Amherst boys finisher was Junior Caden Wright in fifth place with a time of 18 minutes and 2 seconds. 
Finishing in third and fourth in the girl's race were the Peterson twins, Lia and Sage. Lia's time was 20 minutes and 41 seconds and Sage clocked a time of 21 minutes and 9 seconds. The Petersons are juniors and are often top place finishers.
Many runners recorded personal bests. According to Junior Ryan Warzynski, "The meet was easier than most because it was at a golf course and there weren't as many hills." Three members of the team were missing due to injury and illness. These runners were Reece Stormoen, Andrew Bandy, and Oliver Hylla. All three are expected to return to race next week. 
The two remaining regular season meets took place place at Rosholt on September 29 and Wausau West on October 6.  The conference meet will be held at Menominee Indian High School on October 13 where the Amherst girls will be defending their conference title from 2021.
The Amherst Cross Country team is already looking for new members for the 2023 season. Contact Dan Quade or Kim Beaudoin to sign up and start running!