FFA more than cows, sows, and plows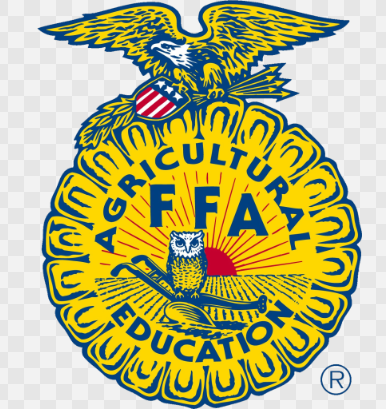 Despite what most people think, FFA isn't just a group of farmers talking about cows, sows, and plows. The honor of putting on a blue corduroy jacket means much more than that to many members, advisors, and alumni. FFA teaches many skills such as leadership, confidence, time management, responsibility, and many more important life skills.
Amherst High School's local FFA treasure, Abby Giddings, said, "FFA has taught me many skills but the most valuable one I learned is public speaking. Leadership Development Event's (LDE's) have especially taught me how to speak confidently and effectively in front of groups." This year, Giddings did the prepared speaking LDE and took 1st at regionals so she will be moving onto sectionals to hopefully compete at state LDEs!
The Amherst FFA chapter is extremely devoted to teaching people how food gets to the table. The chapter hosts many events that help reach this goal from volunteering at the school forest to hosting Food for America for the school's 4th graders. Vice President Marcus Kennedy said, "Food for America is my favorite event as it is exciting to see little kids so interested in agriculture and seeing their reactions to how their food is produced." These types of events help show people how agriculture affects their everyday life.
FFA creates a social environment for all types of people. No matter if you live on a farm or if you live in the suburbs, everyone learns from each other. President Jacob Gibbs said, "FFA now involves not just the farming side of FFA, but also the business side and everyday life skills everyone should have. This allows for so many more people to become active and enjoy FFA and its events." Social events such as conferences and conventions bring so many diverse people together and allow them to hear new ideas and create events that can include everyone.
"Amherst's FFA chapter members have changed from just farmers to all different types of people whether they are interested in crops, animals, flowers, business, and wherever else they can imagine," Harlee Kirsling said. The Amherst FFA members are all interested in different things but all work together to do their best. The members' Supervised Agricultural Experiences (SAE's) vary from specialty crop production to working with horses and from forage production to working at a veterinarian clinic. All of these differences help the chapter to create inclusive events and create a club that is welcome to all.
The FFA organization brings education and joy to all members. This club has positively changed the lives of many as they are more prepared for their future and know what to do when faced with a challenge. The FFA is a very important club that today's generation is lucky to have.