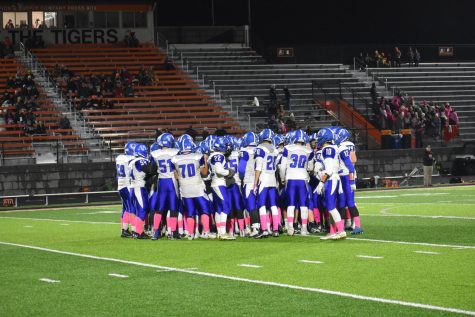 After a whirlwind of events that circulated around the Amherst football program in 2022, coach Mark Lusic and the Falcons are ready to put it past them and focus on the biggest goal that is on the minds of every team in the state of Wisconsin; heading to Camp Randall and bringing home a state championship.
The Falcons are coming off of a 1-8 (1-6) record in the CWC-Large. The season started with two non conference losses; one in overtime at Clintonville, while the other was a running clock situation at home against Medford. Amherst was able to come back and win 6 straight, with three being shutouts and one being won off of a field goal against rival Wittenberg-Birnamwood in the final seconds. Amherst would have been eligible for the playoffs and would've clinched their fourth consecutive conference championship. However, all wins prior to Oct. 14 were marked as forfeits, as it was revealed the day prior (Oct. 13) that Amherst had a player who was ineligible. The only win Amherst had officially in 2022 was against rival Stratford 28-21 in Marshfield.
With that out of the way, here is a week-by-week lineup of the 2023 season for the Amherst Falcons of each team standing between them and the 2023 playoffs. (All start times are 7pm unless otherwise noted)
Week One: Home vs. Clintonville
To start off the 2023 season, the Falcons kick it off against the same team as last year. The Falcons however would like to avenge the overtime loss to the Truckers and start the season 1-0. Clintonville is coming off of a 7-4 season and a 4th place finish in the Northwoods Conference. The Truckers lost in level one of the 2022 playoffs to Chilton by only one point (6-7). When it comes to their offence, they averaged 25.8 points per game and had 3,100 yards over their season. Clintonville however is coming off of a big 2023 class, with 15 seniors moving the tassel to the left. This may not be the only time we see them on the field as well, as they are also slated to be in Division 5 this fall.
Week Two: Away vs. Two Rivers (6pm Start Time)
The first road game of the season calls for an earlier start time than usual as the Falcons will travel to Two Rivers to face the Purple Raiders. Two Rivers is coming off a one loss season and looking to defend their title as Eastern Wisconsin Conference Champions. Their only loss was to the Division 4 State Champions, Catholic Memorial (14-20). They opened up their season last year on 4 straight shutout wins, totaling 237 points on the offensive side of the ball. When it comes to yards, they surpassed 5,000 last season, as both passing and rushing had over 2,000 yards each. With only 10 seniors leaving after the 2022 season, a lot of the core components of the Purple Raiders will be returning to continue right where they left off.
Week Three: Home vs. Stratford
In what could be one of the biggest games of the year, the Falcons host the Stratford Tigers to open up CWC-Large Conference play. Stratford will be coming off of a Division 6 state championship and a 11-2-1 record, with a shared conference title with Wittenberg-Birnamwood. The last time these teams met, it was a tale of two different storylines, with one team's future secured, and the other's in jeopardy. Amherst was able to win the emotional game 28-21 with a defensive stop an inch from the goal line. When looking back at the Tiger's stats, they heavily favored the running strategy over the passing. Stratford totaled up slightly over 5,000 yards and 61 touchdowns on the season, with over 3,000 yards and 37 touchdowns from running alone. They are tied with Two Rivers however, in having 10 seniors walk across the stage, but with heavy hitters like Gavin Leonhardt and Koehler Kilty returning as seniors, this game is certainly one to have circled on the calendar.
Week Four: Away vs. Shiocton
The Falcons travel to Shiocton in what will be the final time these two teams will face each other in conference play. After this season, Shiocton will be transitioning to the Northwoods Conference with Manawa due to the WIAA Conference realignment. Shiocton is coming off a trip to Madison, and an 11-3 record. The Chiefs fell to Division 7 Champs Regis in the championship game (7-41). Shiocton averaged 25 points per game last season and tacked on a tad bit under 4,000 yards. Compared to other schools in the conference, they had a small, but powerful, senior class, with only 8 seniors moving on. Don't be fooled however, as big names such as James Mutchie, Ty Marcks, and Bennett Schmidt set to return for their senior season with the Chiefs.
Week Five: Home vs. Wittenberg-Birnamwood
Another chapter of the Falcons-Chargers rivalry will be written as Amherst hosts Wittenberg-Birnamwood to continue where they left off. Last year (before the forfeit), Amherst walked off the game with a field goal from now graduate Sam Wangelin. The Chargers are coming off of an 8-2 (6-1) record with a shared conference title (with Stratford). Wittenberg lost to Kiel in level one of last year's playoffs 6-16. The Chargers averaged around 31 points per game and had a bit under 4,000 yards on offense for the whole season. With only having seven seniors graduating in 2023, big players such as Charlie Nowinsky, Marshall Fraaza, and Nathan Waupekenay are set to return this fall.
Week Six: Away vs. Spencer/Columbus Catholic
Amherst heads west in Week Six to face quite possibly one of the worst teams in the CWC-Large last year, the Rockets of the Spencer/Columbus Catholic co-op. To put it in perspective, their only win was the forfeit from Amherst, and were outscored 214-38. When it came to their offense, it averaged almost 7 points per game, 8 touchdowns on the whole season, and totaled up 1,288 yards. When looking at their 2023 roster, they had a lineup of 12 seniors, 10 juniors, 8 sophomores, and 1 freshman. The Rockets have a lot of shoes to fill for this upcoming season.
Week Seven: Home vs. Weyauwega-Fremont
In Week Seven, the Falcons welcome the Warhawks out of Weyauwega-Fremont, who are coming off of their first winning season under Head Coach Colton Zimmermann. They went 6-4 (4-3) in 2022 and lost their level 1 matchup against St. Mary's Springs 12-47. Their offense raked in almost 3,200 yards and brought in around 23 points per game. With having 12 seniors moving on from 2022, and having no freshman rostered (as listed on Wissports.net), their are going to be plenty of new faces wearing the red and white for the Warhawks. However, names such as Brayden Arndt, Aiden Marquette, and last year's starting quarterback Kameron Zielke are set to return to continue their winning ways.
Week Eight: Away vs. Nekoosa
The final road game in the regular season for Amherst send them west once again as they face the Nekoosa Papermakers. Like Shiocton, Nekoosa will be transitioning to a new conference in 2024. The Papermakers missed the playoffs in 2022 with a 2-7 (2-5) record, with only receiving wins from Amherst and Spencer/Columbus-Catholic. Out of their 1,614 yards on offense, 1,129 of them belonged to the rushing side of the offense. Their roster will be not be changing very much going into 2023, as they only had 3 seniors moving graduating from the program. Out of the 29 that were rostered in 2022, and set to return, 4 were juniors, 14 were sophomores, and 11 were freshman.
Week Nine: Home vs. Manawa
In the week before playoffs, Amherst will welcome the Manawa Wolves for one last game in CWC-Large Conference play. In 2024, Manawa will be moving with Shiocton to the Northwoods Conference. Manawa is coming off of a 5-5 (3-4) season, and being shut out in the opening round of the playoffs 0-62 against Coleman. The Wolved added up almost 2,000 yards on offense with over half coming from passing the ball down the field. Last year's roster was very much senior heavy, with having 10 seniors and 9 juniors compared to 3 sophomores and 3 freshman. Like Spencer/Columbus-Catholic, there are plenty of open spaces for the wolves to fill in 2023. With that being said though, names such as Nathan Gorman, Dakota Stroud, and Charlie Wentworth are set to return for Manawa this fall.
Zaleski Sports will be returning this year to broadcast all home and away regular season games in 2023. Good luck to the football team this year and Go Falcons!