Amherst High School Band hosts solo & ensemble
Outstanding performances include state qualifiers
Last weekend at solo and ensemble, the high school band didn't just measure up with their note-worthy performances, they raised the bar!
Amherst hosted a music solo & ensemble on the weekend of March 5, an event where students from many surrounding schools come together to perform music to be judged for a chance to advance to the state level. This event was specific to band or choir, as it supported both on the same day.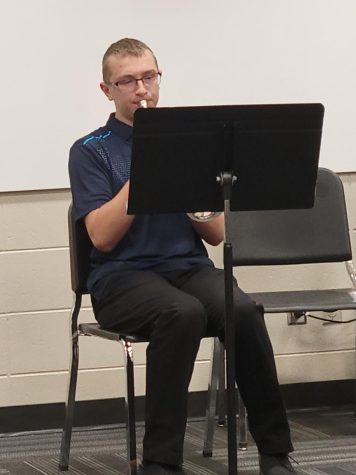 One the band side, both high school and middle school students have been practicing at Amherst for months now, trying to refine and perfect their pieces. One of these students was freshman Elijah Bohm, a trumpet soloist, who's competed in solo and ensemble for three years now. When asked about how he was feeling about the upcoming event, he answered "Not good, I know how to play my piece, but I just mess up one or a few small things each time mostly."
Another trumpet soloist, sophomore Carson Zietlow, felt "pretty confident. I've put a lot of practice in and I think I've got my piece down, I'm just a little bit nervous about performing." This was Carson's fourth year as a performer.
This was the first time for Silas Anthony, a freshman trombone soloist. He, too, was feeling a little nervous, but overall confident in his abilities.
The students haven't been the only ones working hard, though. Band director Jolynn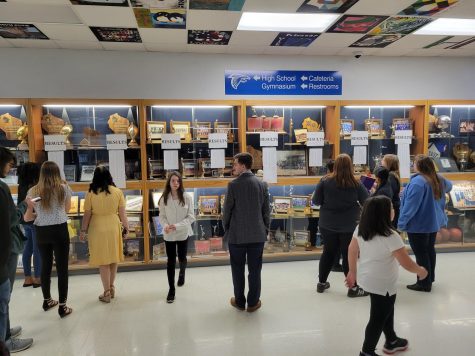 Wucherer has also been trying to get everything sorted with both her students and the event in general.
"It's been a huge amount of work. We've spent 25-30 hours just on the schedule, which is a task in itself. We've also had to organize volunteers to help work the event and make sure the students are prepared on top of that. One of the biggest problems this year is that this is all happening during the musical, leaving students no time in the evenings to prepare for both. It's been a lot of work and the students are taxed," said Wucherer.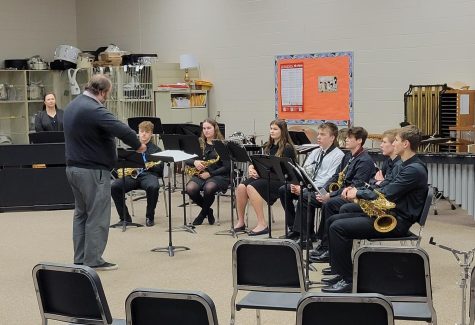 Despite nerves and self-doubt, they did great on Saturday, with many students moving on to state. Some of these include sophomore Jen Omernik with her recorder solo as well as the saxophone ensemble, made up of freshman, sophomores, and juniors. Even the students who didn't go to state also did great, with almost everyone scoring a 1, which is the best possible score.
Overall, it was a difficult year for solo ensemble, but through hard work and dedication, it all worked out in the end.