Boys basketball team wins OT thriller to close out regular season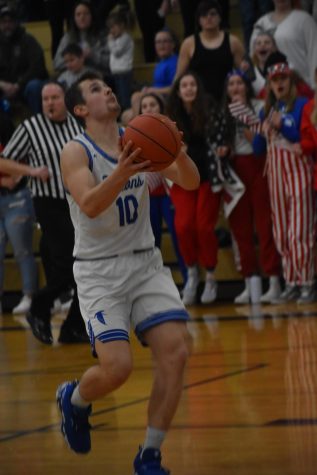 The Amherst Falcons boys basketball teams welcomed the Weyauwega-Fremont Warhawks in CWC-East conference play on a very patriotic-themed night to close out the season. Prior to this game, Amherst stood at 12-11 (4-7), while Weyauwega was at 11-12 (4-7).
It was a very physical game for the varsity squad. Weyauwega won the opening tip and also scored the first points of the night. The Warhawks then went on a 10 point scoring run before Matthew Glodowski managed to get a mid-range jump shot through the hoop. Amherst was down at halftime 15-21. In the second half, the Falcons got the proverbial ball rolling. They were only down 39-44 with one minute left on the scoreboard. Within that minute, it took two three-pointers from Glodowski and Wyatt Blaskowski to tie the game 47-47, forcing the game into overtime.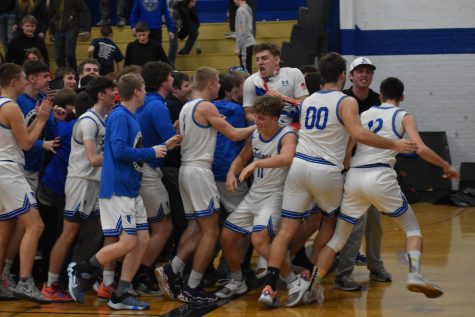 The four minute overtime was dominated by Amherst, as they fought with everything in them to get the lead – and the win. A baseline jumper by Blaskowski sealed the game, as Amherst would come out victorious 52-50. Blaskowski would end his night with 13 points.
Other scorers of note for Amherst include Spencer Cohen (12), Matthew Glodowski (9), Ian Hall (9), Tyler Soulsby (7), and Aidan Jastromski (2). Scoring notes for Weyauwega-Fremont include Quinn Dittman (15), Brayden Arndt (13), Jaden Rice (9), Ethan Marquette (6), Bryce Dittman (6), and John Mueller (2).
Amherst improves to 13-11 (5-7) and have clinched their first winning season since 2018. (The Falcons lost to Clintonville in the Regional quarterfinals of WIAA State Tournament play to close out the season a week later.)
JV falls: Amherst JV2 won their matchup. No halftime or final score was reported. Amherst JV was down at halftime 17-23. They tried to make a comeback, but to no avail. The JV squad lost 36-44.