Dreams come true for Amherst girls track team at state finals
It was an especially great season for these five girls on the Amherst track team, all of whom qualified to perform at the WIAA state track & field meet, one of the oldest and most relevant track meets in the nation. Attending the state track meet in La Crosse is the dream of all Wisconsin runners.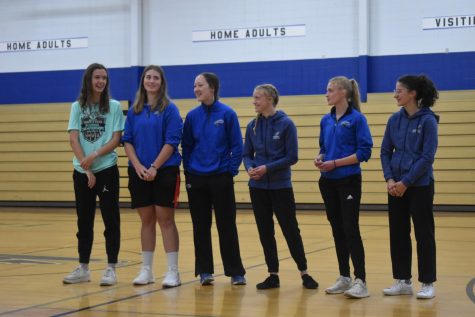 June 3 was the big day, the girls were between excited and stressed, they have waited for this day for 12 weeks. It is the only date that matters in their heads.
Lauren Bird is familiar with big track meets, it's the third time she has qualified for state, but still she is excited to do great and to show all the progress she has achieved during the year. For Hannah Wall, Estella Brown, Lia Peterson, Saige Peterson and Leonie Chabbert, it is the first time they are going to compete in a big championship. Even though they all are going to do different events — Lauren Bird in the shot put, Hannah Wall in the high jump, and Estella, Saige, Lia and Leonie in the 4x800m — they help and support each other.
Finally the moment arrives, it is a sunny day in La Crosse, but the athletes can still feel the breath of the wind. Minutes go by, the girls get more and more excited as they watch the D1 athletes preform before an animated crowd that fills the grandstands. The giant grandstands of La Crosse, which seat up to 10,000, with many seats filled, was so impressive. For the first time, these Amherst girls experience a big crowd. All the coaches are here to cheer on their athletes, and to see them at the end accomplishing their dreams is the goal of everyone.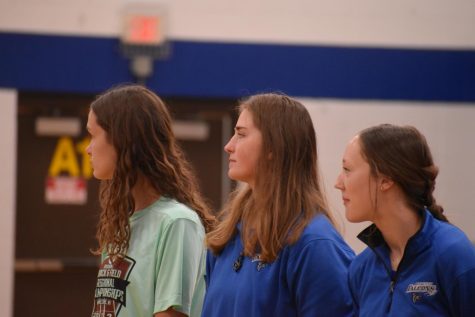 3 p.m. is the time where everything starts, Lauren throws, Hannah jumps and the relay team runs. The warm up begins, the girls observe their opponents. Stretches, strides outs, they repeat the routine they have been done all the season. In their heads it is just another track meet like the other ones. Last words with the coaches, sticking the ranking number on their legs and chest and everything goes. First lap, first throw, first jump…cheers, cries and smiles, the results are in and while they may not have been all that was hoped for it was a great achievement, nonetheless.  Lauren, Hannah, Saige, Lia and Leonie can be proud of what they have done and accomplished.
Thank you to all the parents, coaches, students, teachers that have believed in us and gave us strength all along this season.