Mountain Biking League is an adrenalin rush
Adrenaline pumping as you speed down a hill swooping on berms and flying over tabletop jumps. This is Wisconsin Interscholastic Mountain Biking. "Technical, fun and the right amount of crazy," says Jeff Dahlseng, the league's coach.
There are about 87 Mountain bike teams in the Wisconsin league. The team nearest to Amherst  is the Central Wisconsin Composite (CWC)/SPASH team which practices and rides together at Standing Rocks Park every Tuesday and Thursday from July through October.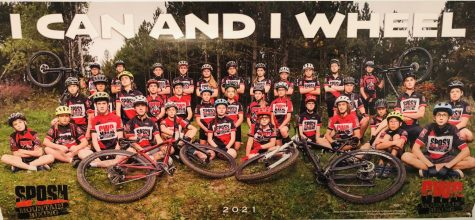 The SPASH/CWC team practices single track cross country MTB. Most bikes have a range of  twelve gears and front shocks only, though some do have full suspension. Riders practice on a variety of trails ranging from very flowy downhill jump-lines to very technical single track that has tight turns with rocks and roots to navigate. Coach Dahlseng's favorite trail is a short track for gaining momentum called "Dragon's Back" because of the twisty up and down. He says he likes it because it's a fun little trail.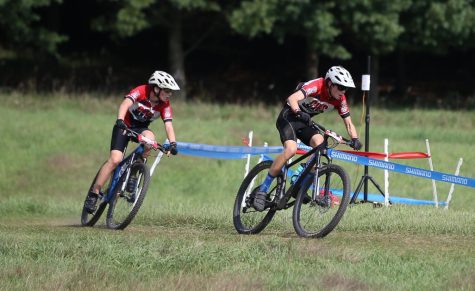 Races take the entire weekend riders and coaches pre-ride the course on Saturday (there is an option to camp on Saturday night), then the races span the day Sunday ending with awards at 4 p.m. in the afternoon. There are seven races: Telemark, Minooka, Englewood Farm, Lowe's Creek, Nordic Mountain and Trek. Each team only participates in five races.
"My favorite race is Trek," says Ben, a SPASH senior and team member. Trek is the last race of the season and every team attends. It is at the Trek Headquarters in Waterloo and the league race is one of the only times the trails are for use outside of the Trek Company. Mountain Biking is an individual team sport so races get individual times and they also score points that impact the team's score.
Students from different schools can participate and meet people they never would have known had they not gotten into mountain biking. "It is a fun way to make friends," says Ben Oksiuta. Although the 2022 season has now concluded, coach Dahlseng invites all to give it a try next year: "Come and try it out if you like the outdoors and riding on world class trails."