Seniors showcased on Parents Night
Team opens 2022 with high expectations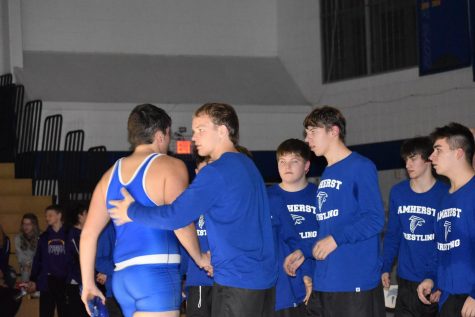 Although losing against a tough opponent like Shiocton can be challenging, especially on Parents Night, every single wrestler puts in a lot of work and it all starts at a difficult practice every day after school.
Each wrestler was given a flower to give their parents and escorted into the gym by either their parents or even a coach.  Wrestlers in the spotlight that night included Ryan Warzynski, son of Mike and Bonnie Warzynski; Caleb Pinkalla, son of Amber and Mark Pinkalla (although Amber is not pictured); Shane Sutheimer, son of Jim and Lisa Sutheimer (were not there to escort), escorted by head coach Christopher Karl; Ephraim Anglemyer, son Edward and Kimberly Anglemyer; Jack bohm, son of Wyatt and Beth Bohm; Hunter Biadasz, son of Rodney and Tery Biadasz; Gaberial Helbach, son of Michael and Debra Helbach; Owen Nelson, son of Chad and Brandica Nelson; Colton Jakobek, son of Kent and Deb Jakobe; and Lia Peterson, daughter of Dave and Jenna Peterson.
After all 10 wrestlers and their parents entered the gym, all lined up in a line and parents were given recognition for everything they do for the Amherst Falcons wrestling program. Head coach Mr. Karl said, "We are very grateful for all our parents and what they do for the sport of wrestling." Overall, the support of the wrestling team runs deep and a big thank you to all wrestling parents for everything they do.