There are many benefits to ice fishing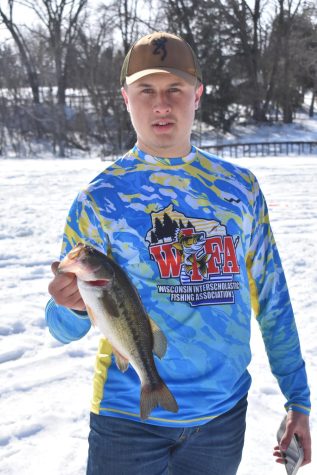 The scrape and squeal of ice augers. The yell of "TIP-UP" reverberates throughout the air. Smiling students showcase their prize fish on their social media. The Amherst Fishing Team (AFT), formed this past December, now partners with 120+ teams in the Wisconsin Interscholastic Fishing Association (WIFA). 
For many Wisconsinites, ice fishing ranges from a way of life to just a hobby to spend time with friends and family. At the high school level, there are many benefits to ice fishing: the physicality of ice fishing, the level of cold exposure, and the stress relief that comes with going out on the ice.
There are many reasons to get involved in an ice fishing team. "Create your own environment and learn to manage a group of people in the real world," said senior Wyatt Blaskowski, listing just a few of the umpteen reasons to get involved in a club other than the friendships that can be made along the way.
It's fun but can it be good for your health?
Ice fishing provides great exercise. The physical aspect of ice fishing involves many different properties other than just jigging for fish. Ice fishing requires people to be mobile. "If the fish aren't biting, get moving," said Jacob Gibbs, the Amherst Fishing Team President. Another characteristic of ice fishing physicality is the making of ice fishing holes whether that be through the drilling of holes with a hand auger or dragging around a heavy gas auger, both have their physical challenges. 
In modern science, cold exposure is useful to athletes and anyone that is trying to increase energy levels. During ice fishing, fishermen are exposed to cold temperatures for many hours, as long as they don't sit in the shack too much. Cold temperatures have also been linked to improving sleep, increasing metabolism, reducing inflammation, and improving immune system function, according to Markus Whitlock, an outdoor guide and writer. 
Stress relief can also come from ice fishing in different ways. The high activity of everyday life, dialing phones, writing emails and trying to manage children can be a very large stressor in people's lives. This can be solved by just going to the lake in solitude or with friends to get rid of the hustle and bustle of everyday life and focus on one thing: fishing. 
Amherst High School features another element to the ice fishing scene: competitive spirit. With a team of 32 youth members and 6 adult coaches, the AFT has entered a variety of different ice fishing tournaments. These competitions included the Lakeland Invite tournament on Lake Minocqua where Logan Glodowski, freshman, caught a 35 ½" silver pike, and the North-South Tag Team event Trifecta where Amherst paired up with Wauzeka High School Fishing Team. 
The Amherst Fishing Team had hoped to participate in the 2023 WIFA State Ice Fishing Competition on Shawano Lake slated for Sat., Feb. 18, but it was cancelled due to poor ice conditions.
As the team continues to grow, some things are unlikely to change regardless of the ice conditions includinng the levels of friendship established between classmates, the physicality of ice fishing, the freezing temperatures, and the joy of everyone getting out on the ice.