Amherst FBLA is regional runner-up
30 students qualify for Business World event next summer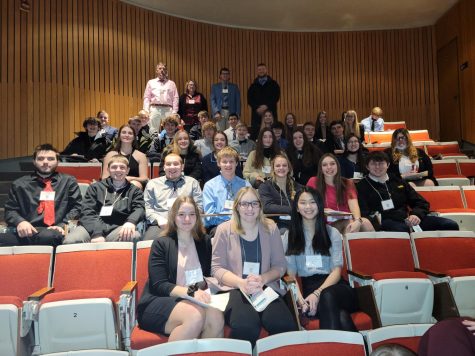 It was a "silver medal," runner-up finish for the Amherst Future Business Leaders of America club as they managed a second place finish among a field of 29 schools during recent regional competition held at Nekoosa on Sat., Feb. 5.
Competition consisted of 29 schools, including four Division 1 schools (D.C. Everest, Marshfield, Rhinelander, and SPASH) as FBLA competes geographically and not by student enrollment. More than 500 students participated.
"I am proud to say that Amherst took second place overall as a team.  We have 50 members in the club, and 30 of them placed in the top three of their competitive event," said Travis Zellmer, Amherst High School business teacher.
This qualifies these 30 students for Business World to be held June 19-22 at St. Norbert College in De Pere, Wis. Students competed by taking a test, presenting, speaking, or interviewing on a business-related topic.
The students who qualified for Business World include: Jacob Kirsling, AgriBusiness; Jen Omernik, Cyber Security; Aiden Krupka, Impromptu Speaking; Siri Anderson, Introduction to Business Communications; Mason Colligan, Client Service; Ty Schelvan, Help Desk; Balin Wojtalewicz, UX (User Experience) Design; Jack Seeger, Introduction to Business Concepts; Danica Lassa, Supply Chain Management; Shelby Lutz and Bailey Maxwell, International Business; Garrison Gordon and Noah Spoelstra, Introduction to Business Presentation; Eden Lea, Maizee Martin, and Lily Haas: Introduction to Event Planning; Gavin Blanton, Jake Hoffman, and Landon Moe: Network Design; Ethan Zilisch, Ryan Breed, and Jacob Spoelstra: Business Management; Lauren Bird, Harleigh Carlson, and Carly Wandtke: Sports and Entertainment Management; and Drew Bandy, Stephanie Bandy, Talin Maves, Alexa Shulfer, and Hannah Wall: Parliamentary Procedure.
"Special thanks to Jodi Zblewski, Garrett Groshek, and Tyler Biadasz for working the FBLA regional on Amherst's behalf.  Special thanks also to all staff 4K-12 who have prepared our students to intellectually compete and dominate so many other schools," Zellmer added.