Taking the Plunge for Special Olympics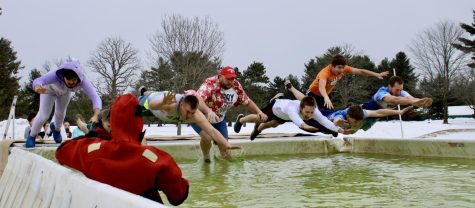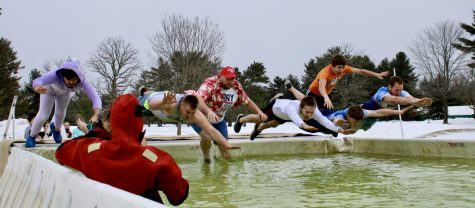 Several Amherst High School students supported Wisconsin Special Olympics athletes by taking the Plunge on February 5. 
Led by Mr. Swan and Mr. Klieforth, Amherst High School students participated in the 2022 Wisconsin Rapids Polar Plunge. Students braved water temps of 32 degrees and an air temp of 10 degrees to shed a WARM light Special Olympics. 
Amherst students raised about $4,500 towards their $5,000 goal. Sophomore Landen Prescher raised the most money with a total of $879.
The Wisconsin Rapids area set a goal of $32,000 this year and was able to crush that number with a total of $44,000 raised. One man alone was able to raise $11,000 with a single anonymous donation of $8,000. Overall, AHS placed third for most money raised, which is really impressive considering AHS had just 15 team members and the other top team had 146.
Staff advisor Mr. Swan first encouraged Amherst students who were part of the TRASH Ultimate Frisbee team to participate in the Wisconsin Rapids Polar Plunge in 2020. Swan has been participating on and off in the Wisconsin Rapids Polar Plunge for Special Olympics for nine years.
"If I remember correctly, this was my 7th plunge," Swan said. "I've seen a lot of value in volunteering and helping others, and I wanted to pass it along to students and share that value."