Pacelli Cardinals hockey soars towards end of the season
The Pacelli co-op hockey team is entering the final weeks of their season, and they're not slowing down.
After Thursday's game February 2nd, an incredibly close loss of 3 to 4 against Eagle River, the Pacelli Co-op hockey season's record fell to 8 wins against 7 losses. The division 2 co-op is made up of many schools in the area including Amherst, Pacelli, Almond, Assumption, and Wisconsin Valley Lutheran who all come together under the name of Pacelli Cardinals.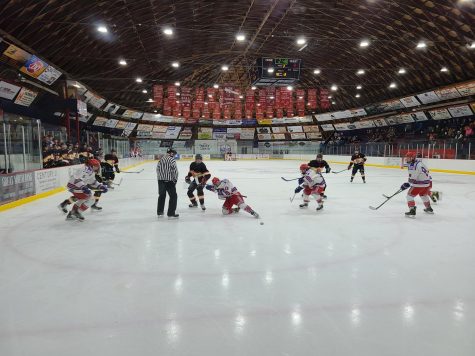 Even though it ultimately ended in a loss, the game versus Eagle River was a lot closer than it appeared.
The two teams butted heads in the first and second period, with Eagle River scoring first both periods, but Pacelli answered with two goals of their own, ending the periods with a score of 1-1 and 2-2, respectively.  
Tragedy struck in the third when Eagle River scored back-to-back goals within the first four and a half minutes of the third. The cardinals did not falter, and continued to fight their way back into the game. They succeeded with 9 minutes and 45 seconds left in the period when Jacob Hasler (Pacelli) scored off a pass from Mason Zielinski. Unfortunately, no matter what the co-op tried, they could not get a fourth goal to tie the game even after they pulled their goalie in the final minute of the game.
"I mean the season has had its ups and downs," head coach Cory Blake admits. "We've lost to teams we definitely should have won against." However, the coaches as a whole believe that the players are capable of being a great hockey team. "We just need to work on the little things, like give-and-goes, communicating, or even just the attitude before games. Once you get those basic fundamentals down, we'll be able to play much better hockey."
Players from Amherst make up 50 percent of the team, and these players include on defense, #18 Balin Wojtalewicz and #5 Michael Benjamin, who are both sophomores. On offense, players include juniors #12 Mason Zielinski and #11 Blaise Andrich, and sophomores #10 Drew Bandy, #16 Sawyer Olds, and #23 Max Voss. Finally, freshman #29 Isaac Andrich plays goalie.
 The team, as of the game on February 5, has 2 games left of the regular season. The next game will be on February 8 and starts at 7 p.m. at 801 Badger Ave, Stevens Point. This game will be the last confirmed home game before playdowns, so it may be your last chance to watch the co-op play this year. Their final scheduled game is February 10 in DC Everest, which should be a good game if you can make the drive.