Amherst girls get their kicks in versus Arcadia
On a somewhat warm April 29, at least warm by current standards, the Amherst Falcons welcomed the Melrose-Mindoro/Gale Ettrick Trempealeau Mustangs in Mid-Western Wisconsin Conference play. Prior to this game, Amherst won their game on April 26, winning 8-2 against Arcadia. Melrose also lost their prior game, as they got shut out by Assumption 0-11.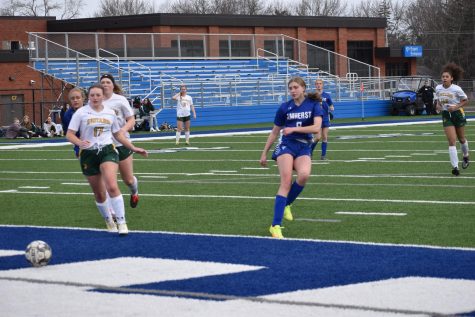 The Falcons changed their starting ways for the beginning of this match. Their first goal was scored in the 21st minute by junior Jenna Pinter. Amherst would continue to dominate in the second half by adding another goal onto the scoreboard by senior Alexa Shulfer.
In the second half, the Lady Falcons didn't stop their scoring ways. Iola-Scandinavia senior Lili Barthel scored a Hat Trick (three goals in one game), while Amherst sophomore Saige Peterson and I-S senior Alyssa Tap both scored goals in the second half. The Mustangs weren't able to score a goal. The co-op between Amherst and I-S won in a shutout 7-0.
Amherst improves to 5-1, while Melrose drops to 6-2.