UW-SP athletes/teachers now mentor Amherst students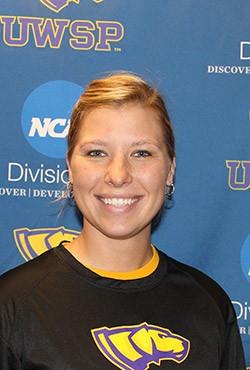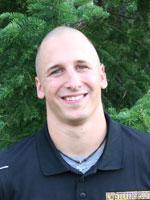 The basketball coach, the phy-ed teacher, and even the math teacher. All currently working at Amherst high school, all played collegiate-level sports 15 minutes away at UW-Stevens Point.
Claire Glodowski (Coach Claire) went to high school right here in Amherst. She was a big part of the most dominant period of girls' high school basketball at the school. She was a captain each and every year, and led the team to four conference championships in a row. Not only that, but, "(We) went to state all 4 years with an overall record of 97-7, Boo-Yah!" In Glodowski's sophomore year, the team was able to take home a silver ball, and she picked up an All-Conference Honorable Mention award like she did her freshman year. In her junior year, she received 2nd-Team All-Conference, and the very next year, did even better. Glodowski and the team won it all, bringing the gold ball to Amherst. Glodowski herself picked up a 1st-Team All-Conference award, as well as an All-State Honorable Mention. After a dominant four years, she decided to take her talents to the University of Wisconsin Stevens Point. "It was still local, but not in Amherst and they had a great history and program for the women's basketball team."
While at college, Glodowski had a solid career, having an overall team record of 92-24, and 50-14 specifically in the WIAC (Wisconsin Intercollegiate Athletic Conference). The team even made it to the Elite-8 her freshman year. Glodowski has always been a strong leader and it carried through to her college career and after. "There is a lot more work you have to put in mentally and physically, but the results of how you come out as a person formed me into who I am as a coach today."
Christopher Karl (Mr. Karl) is a phy-ed teacher at Amherst, as well as the head wrestling coach. He went to high school in Auburndale, where he wrestled all four years. During his junior year, Karl placed 5th at state, with an overall record of 34-10. He kicked things up a notch his senior year, going 34-7, and was state runner-up. "It was really cool to wrestle down at the Kohl's Center, and it was because of all the hard work I did." Karl was heavily recruited by UWSP to come and wrestle. "There were a lot of coaches, and actually, guys who were on the team that came to my high school matches and they recruited me really hard. On my recruiting trip, it felt like a closer family to me."
While wrestling at Point his freshmen year, Karl took third at the Pointer Open for his very first meet. He continued a dominant college career, putting in the work, and it paid off his senior year. "I was a National Qualifier. I wrestled at the National tournament, it didn't go how I had planned, but I was also pretty banged up. Still, I was able to wrestle in front of thousands of people to represent my college." Karl says in college everyone is good: "In college, everyone is like the stud of their high school and stud of their university, so the competition level is way higher." When asked what made him follow through with competing at a collegiate level, he adds, "I wanted to test myself. I didn't feel I had completed all my goals in high school so I decided to continue competing in college."
Brandon Stremkowski (Mr. Strem) is currently a mathematics teacher at Amherst. He went to high school at SPASH where he played football. In his junior year, Stremkowski was a 2nd Team All-Conference inside linebacker for SPASH, and the following year, he had an even greater season. He was the Defensive Player of the Year in the VFA (Valley Football Association) conference, as well as being an Honorable Mention for All-State as an inside linebacker. Stremkowksi says that his biggest accomplishment, however, came from a newspaper. "The Milwaukee Journal Sentinal had an All-State Team with only 3 linebackers in the entire state, and I had made that team."
Stremkowski's talent was widely acknowledged, and he went on to continue playing at UWSP. During Stremkowski's freshman year at Point, he was only able to get in on special teams, but he didn't let it discourage him. In his sophomore year, he got in at linebacker and came away with 15 tackles, with 11 of them being solo. His junior year went well enough that Stremkowski was named an All-WIAC linebacker. He had 48 tackles in 9 games, with 22 of them being solo, as well as 7.5 tackles for loss and 1 interception. The biggest difference between playing high school football and then college football was, Stremkowski answered, "It's the norm to play sports in high school, but in college, you start off with 30 or 40 freshmen playing football, and by the time you graduate, you only have maybe 6 guys left." Stremkowski says he wanted to continue playing past high school because, "…why would I not?"
All three of these phenomenal athletes are now teaching what they know, both athletically and academically, to the younger generations of Amherst.