2022 Falcon football preview
The 2022 Amherst football season kicked off on August 2, as the first practice was held at Heartland Farms Field. For some, it will be the first time playing under the Friday night lights, but for others, it holds the last chance to play in the blue and white. To recap last year, head coach Mark Lusic led his team to a 12-1 (7-0) overall record and another conference championship. The only loss Amherst suffered was in level 3 of the WIAA division 5 playoffs against conference foe Wittenberg-Birnamwood. Out of all the Amherst members on the CWC-Large All-Conference team, five will be returning for this season, and are as follows:
Matthew Glodowski (Second Team – RB/LB)
Jake Derezinski (Honorable Mention – WR)
Aidan Jastromski (Honorable Mention – WR/DB)
Cole Oleson (Honorable Mention – DL)
Mark Lusic (Conference Coach of the Year)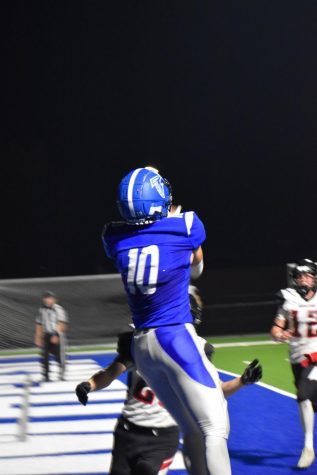 As projected by wissports.net, Amherst will remain in Division 5 for the 2022 playoffs. However, there are multiple changes going on within the conference as a whole. In order to cover everything, here is a week-by-week description of each matchup, team, and who's coming back.
Week One: Away vs. Clintonville
What goes around comes around as Amherst will open the regular season taking on a team they faced last year in the playoffs. When the Truckers came to town last October, it was a major blowout in the Falcons favor, as Amherst won 36-8. Clintonville went 4-6 overall in 2021, which was good enough for 4th in the Packerland Conference (they have since moved to the Northwoods Conference for 2022).
Week Two: Home vs Medford
The home opener contains a matchup between two teams that had their game end early due to weather last year. Amherst won the game in 2 1/2 quarters 29-14. The Red Raiders went 6-5 overall and finished 3rd in the Great Northern Conference. A fun fact about Medford, if you look at their point for/against, they are only seperated by two points.
Week Three: Home vs. Shiocton
Conference play kicks off in week 3 as Shiocton rolls into town. The chiefs, coached by Brock Pahlow, went 5-5 (2-5) overall during the regular season but missed the playoffs. It was a walkoff win last year for the Falcons as they won 47-7. Shiocton's only touchdown during the game was made by now senior and second team all conference runningback Cade Stingle, who has recently committed to the University of Minnesota Mankato for football. Stingle will be one of six all conference players to return this fall.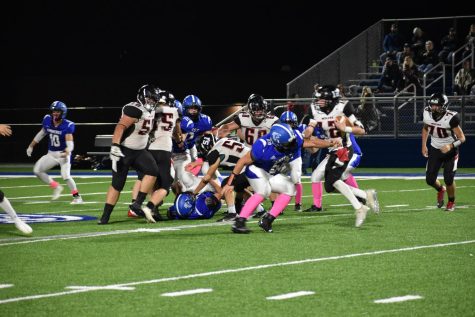 Week Four: Away vs. Wittenberg-Birnamwood
Payback will be on mind for Amherst as they travel to take on the Chargers. This year, new head coach Jason Reick will have three all conference players returning to play for him and hope to continue their winning ways. W-B went 10-4 (6-1) on the season and lost in level 4 to Aquinas 18-28.
Week Five: Home vs. Spencer/Columbus Catholic
The Falcons return home in week five to take on the rockets, who went 6-5 (4-3) in 2021 and had an early exit in the playoffs, as they lost to St. Croix Falls. Sullivan Melander is their only all conference member returning this season. Melander as second team as a runningback and honorable mention as an defensive linemen.
Week Six: Away vs. Weyauwega-Fremont
The Warhawk team hasn't been all that great over the past couple seasons. Due to a rise in their COVID cases last year, their game against Amherst was forfeited. That didn't stop Brayden Arndt from being an honorable mention in both wide receiver and defensive back positions. Under former head coach Pat Free, W-F went 1-8 (1-6) and now new head coach Colton Zimmermann is stepping up to the plate to try and bring a winning season to the Warhawks.
Week Seven: Home vs. Nekoosa (Homecoming)
The homecoming game for Amherst consists of an opponent who they blew past last year on the road 56-8. The Papermakers missed the playoffs last year with an overall record of 4-6 (2-5) under head coach Mark Tuttle. Nekoosa is the only team this year with no returning all conference members.
Week Eight: Away vs. Manawa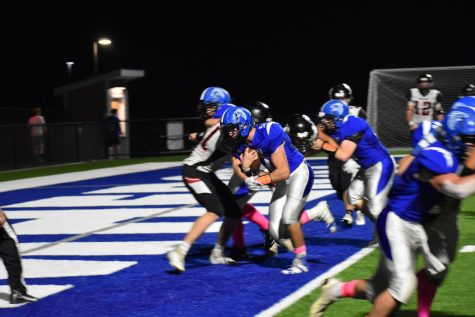 Amherst travels to Manawa in the second to last week of the regular season to face last year's homecoming opponent. It was a one sided fight during the game last year as the Falcons were able to win it 46-6. The Wolves had an overall record of 2-7 (1-6) which prevented them from getting into the postseason. This year, Tanner Nienhaus, who was an honorable mention selection in the defensive back spot, returns to head coach Brad Johnson and Manawa for another season of football.
Week Nine: Away vs. Stratford
In what could be the game that decides conference, the Falcons will head back on the road to take on their biggest conference foe. Amherst was able to come out of last year's game not only with the win 28-14, but with the CWC-Large conference championship. Stratford head coach Jason Tubbs led his team to a 8-3 (5-2) record last year, but ended the season with a loss to St. Croix Falls 14-19 in level 2. Stratford will also be having three 1st team all conference players returning this year on the offensive, defensive, and special team sides of the ball.This year however, things will be changing. Due to enrollment changes, Wissports.net projects that Stratford will be in Division 6 this year. This won't be official until the post season, but it will be quite a change.