Bowling team looking to strike gold this season
What will Amherst's 2022 bowling season entail? Will they win the state title and add to the five state titles they won in the 2010s or will they come up just short like last year? 
 Brad Cieslewicz Headcoach and Isaac Glodowski a freshman in high school who has been in the Amherst bowling program for the past three years. 
Head Coach Brad Cieslewicz is very optimistic and excited for the upcoming season. He expect nothing but strikes and spares going forward. "Wisconsin high school and middle school bowling has grown more in participation and competition every year. Our district 9 is one of if not the most competitive districts for division 2. Amherst bowling continues to be one of the deepest programs in the state, top to bottom," said Cieslewicz. 
Cieslewicz recommends being caution and yet getting off to a fast start. Last season, the team had a slow 0-2 start but eventually recovered and climbed their way up to a 4th place finish in the state competition. Unlie last year, Amherst has a lot of returning talent, especailly on the boy's varsity team. They didn't have any seniors last year, which attributed to their slow start. 
But district 9 is tougher than ever, so Amherst will have to up its game and set new standards. Goals for the new season, according to Brad Cieslewitz, are to "never average a set score, it is to win the best of 9 games while getting the least open frames possible."
Coach Cieslewitz expects big contributions across the board: "Everyone has personal goals, but sticking with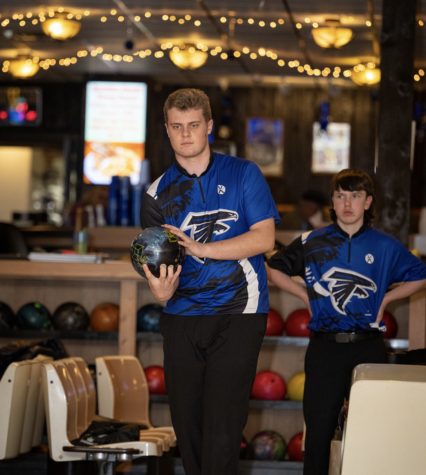 these goals and taking the next step after each goal will drive our team to a successful season, and lastly no matter the sport it is impossible to replicate the atmosphere of a game or match in practice or scrimmage," he said, adding, "staying in the moment every shot and trying to focus on your routine, the pins in front of you, and nothing else of the approach, will be one of the best improvements."
Similar to his coach, Isaac Glowdoski feels very strongly about the success of both he and his team. "Even though it will be different from the previous seasons, with harder matches and practicing, I will still try my best." He also acknowledges and respects the other schools and teams, claiming, "They are all equally intimidating, but that won't stop me."
Everybody in the Amherst bowling program is working hard to be successful and bring home a state title. They hope fellow students can cheer them on in the upcoming season and see how far they can go, and appreciate and respect their hard work and discipline whether they win or lose.