Falcon football: Senior recap
'Strongest class we've ever had' says coach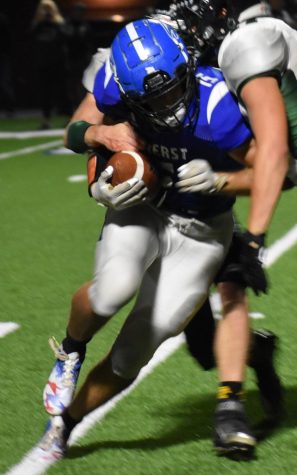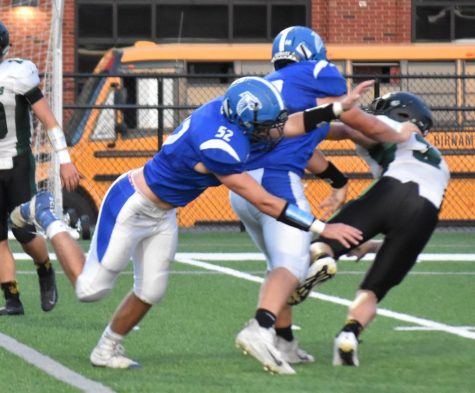 With what was not quite the ending everyone wanted, the football season came to an unceremonious conclusion as the Amherst Falcons fell 28-29 to the Wittenberg-Birnamwood Chargers. 
This year, however, was highlighted by a great senior class. There were a total of 12 seniors this year, most of which claimed All-Conference Awards, some even claiming an All-Region award. 
"They were a great class," said Coach Mark Lusic. "This is the strongest class we've ever had."
Starting with the quarterback, Landon Moe had an incredible season. He threw for 17 touchdowns and only 4 interceptions. Averaging 115 yards per game and throwing 77%, it was quite the year for Moe, landing him a second team all conference designation.
Moving to running back, Jake Hoffman made do with a rough season. Jake started the season in the offensive backfield, gaining himself 100 yards on 15 carries. But, unfortunately, he had to battle a hamstring injury. So to protect, Coach Lusic made the call to move him to receiver. Jake had a good series of games as a receiver, netting himself 191 yards and 3 touchdowns on 11 receptions. 
Continuing on the path of receivers is Lauren Bird. Lauren had a season plagued by injury and did not get to play much as a result. 
"Lauren worked her tail off," said coach Lusic. "She was one of the hardest workers on the team." Lauren had a great couple of years on the team and an extreme amount of dedication. 
When people think of receivers, most people don't think of them kicking as well. Josh Bently became a very reliable receiver this year as he gathered a couple of receptions, but the main highlight for him was the kicking. He was a nearly perfect 35 for 36 on PATs, landing him as a 1st team all-conference kicker.
Rounding out the senior receivers was Ian Hall. Hall has been a great athlete and an even better receiver since his sophomore year. He was awarded all-region defensive back and receiver with an incredible 38 receptions for 638 yards and 9 touchdowns. Ian's season was spectacular on both sides of the ball and he proved a dominant force for Amherst through the course of the entire season. 
Moving on to the tight end now — Hayden Czech had a great senior year at linebacker, making his first career start. He played 5 games at linebacker, during which he recorded 5 tackles and a sack. Hayden said his favorite memory from this year was hearing his name announced as one of the starters. 
Continuing on the trend of linebackers, up next is Peter Werner. Peter had a great season at linebacker despite battling injuries that kept him from playing offense. Peter played 10 games netting himself 35 tackles including 5 TFLs (tackle for loss). Peter's outstanding season earned him all-region designation at linebacker. 
Next is Colton Jakubek. Colton made his first start during the playoffs this year and rose to the occasion. He gathered 10 tackles and a sack. Colton had a strong end to his senior year and they were surely games to remember. 
Continuing with the offensive line, Galvin Blanton is next. Galvin had a great year, starting every game at center. Galvin was a great center, earning 2nd team all conference for center. 
Next up on the line is Jarrett Lucht. Jarrett had a great senior year earning first team all conference for offensive and defensive line. Jarrett's season was great, but could have been better. Jarrett suffered an ankle injury late in the season, restricting his play. Without this injury, Jarrett had a chance to be an all region player. 
Up next is Sawyer Stuczynski. Sawyer led the team with 36 tackles and 4 sacks. Sawyer was awarded all-region on both offense and defense. Sawyer started all games this year and was extraordinary in all of them. 
Last, but not least is  Tyler Kennedy. Tyler faced injuries the whole year and still managed to perform at a high level. Tyler tore cartilage in his knee during summer camp and still played through it. Later in the season, however, he sustained a concussion and was sidelined for the rest of the season. 
"I know it's not how we wanted it to end," said Coach Lusic," but it's on to the next." This was surely a star studded senior class, but it's on to the next. The team has already begun preparations for next season to make sure it is as good as the last.