Amherst Holiday Fest 2021 a joy to behold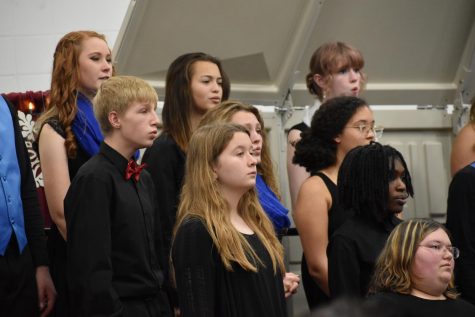 "It was a very well put together concert that brought lots of Christmas cheer," articulated Brooklyn Stanford, an audience member who is also in the Neillsville Choir. It's obvious that the choir's 30 hours of rehearsal, from September to December, paid off at the 2021 Holidayfest concert which was held in the Amherst high school gymnasium on December 5, 2021.
Holiday fest is a special annual event for Amherst musicians and families. The middle school and high school band and choir come together and perform songs that help get the audience into the holiday spirit. Afterward, refreshments are provided as everyone gets together to relish the moment.
Although the concert started at 2 p.m., the dedicated musicians were at the school 90 minutes before the concert to help decorate and rehearse their pieces. As the concert began, Vurchelle Baumann and Jolene Wucherer greeted the audience with warm smiles and announced the first in-person Holiday Festival since 2019.
The Middle School Choir performed the majestic song "All in a Silent Night." Becki S. Mayo's writing helps create an astonishing mood, and the middle schooler's proficient performance brought the piece to life.
After their impressive performance, the High School band performed "Angels in the Bleak Midwinter." The musicians truly came together as one choir to deliver the song's beautiful message: That people's benevolent Christmas actions affect others well after the Yuletide season has ended.
While on the topic of endings, after the excellent concert, the community and students went to the auditorium and ate the snacks. The choir students provided the refreshments, once again showing their dedication. Cookies, brownies, baked goods, cheese, and sausage were eaten while the families discussed the concert. "I'm very proud of how all of the students commit to giving the community a wonderful holiday festival. I hope they continue to do this in the future," beamed Ashley Yenter, a parent of one of the students. High school choir student, Olivia Davis, smiled as she proudly said, "My first Holiday fest was really exciting and I'm glad I joined such a supportive group of talented people."
In my opinion, the music's message clearly had a positive effect on the audience.